Ok people- how many of you made New Year's resolutions to get healthier this year? How many of you have stuck to your resolution so far? 😉
I know it is very hard to stick to a strict diet and exercise plan, but what if you could get healthier without even worrying about that part first?
If you haven't experienced the world of Essential Oils yet, you are definitely missing out. First of all, read here to find out all the benefits of oils for your overall health and well-being. It is amazing what one drop of oil taken from a plant can do for us! And the best part is the oils are completely natural and straight from plants, nothing else added! Young Living Essential Oils has their Seed to Seal promise (read more about it here) that basically guarantees that nothing else ever gets added to the oils after they are pressed or distilled from the plant. This is why they are the only company I trust to get my Essential Oils from. 🙂
So, if you haven't gotten your oils yet, and you are totally ready, this month is the perfect time to start! Young Living is offering a promotion for this month only where you can buy a Premium Starter Kit for 10% off! Awesome!
Ok, now onto the Friday Fitness part. If you have already started using oils and are loving it, did you know that oils are great to use before, during, and after physical activity? For example, RC is great to rub a few drops on the chest and back of neck before activity to help keep you motivated for your workout. During your workout, maybe add a drop of Peppermint oil to your water for an extra burst of alertness. After, roll on some Deep Relief for those hard-worked muscles, or even some refreshing Cool Azul gel!
I just found out about a new product Young Living offers. It is perfect for those of you who are either already workout buffs and going to the gym every day, or those of you who are just starting! It is called the Active & Fit Kit, and it is a small kit made to take with you wherever you are getting active. It includes:
• Nylon carrying case with seven interior mesh pockets for five essential oil bottles, one Slique Bar, and one tube of NingXia Nitro; an exterior pocket; and a carabiner for easy attachment to any gym bag
• Cool Azul™ Sports Gel, 3.4 oz.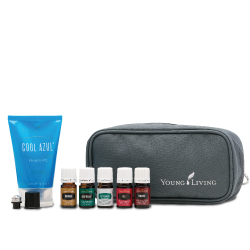 • Deep Relief™ essential oil blend, 5 ml
• R.C.™ essential oil blend, 5 ml
• Thieves® essential oil blend, 5 ml
• Copaiba essential oil, 5 ml
• Peppermint essential oil, 5 ml
• 3 AromaGlide® roller fitments
• Product information card
I love the case because it holds all the oils that you might use when working out, and it clips right onto your bag or even onto a belt loop. Now you don't have to worry about leaving your oils at home when you go to workout! The product number is 5502, and you can order through your Virtual Office. I am totally putting this one on my next Essential Rewards order!!
Leave me a comment on how you use Essential Oils before, during, or after physical activity! 😀